Corporate Mindfulness Programmes
Inward Bound Mindfulness provides wellbeing talks, mindfulness training, and mindfulness courses for the workplace. 
We are now offering the full mindfulness course which was  designed by Mark Williams and Chris Cullen from Oxford Mindfulness. The full course is based on the book called;
 Mindfulness: Finding Peace in a Frantic World
This course is based on the famous book ' Mindfulness a practical guide to Finding Peace in a Frantic World ' by professor Mark Williams of Oxford University and Danny Penman. The book will be provided as part of the course materials. 
The course can consist of 6 to 8,  one hour or more sessions. 
The key learning points include:
This 6 or 8 session course was designed to be accessible and effective for busy staff in a workplace
A variety of formal and informal mindfulness  practices, which can be used every day to live more mindfully
Understanding the physiology of stress and how to self-regulate our moods, so that we are better able to pause in challenging situations and manage our responses more effectively.
How to work with negative thoughts and emotions.
Recognising the patterns of worrying and self-criticism that often generate more stress; and how we can relate to ourselves with a more accepting and kind stance.
Learning to have more mindful communication, connections and relationships.
Learning the tools, skills and techniques to live a more joyful, balanced, and authentic life.
Developing practical self-care tools to help us thrive, perform at our best, and build resilience
Mindfulness has enormous potential to alleviate suffering and enable people to realise their potential, to live their lives with greater compassion and wisdom. 
Finding Peace in a Frantic World was published in 2011, it was a game changer. It built on the ideas and structure of earlier more clinically oriented mindfulness-based programmes, but made the programme accessible to a much wider audience. It offers mindfulness practices in ways that we can all use, and guides us in how to apply mindfulness in our everyday lives both to manage difficulties but also to cultivate joy, compassion, equanimity and wisdom. It offers a different way of living.
Chris Cullen and Mark Williams have developed a way of offering an 8-week mindfulness course in mainstream, everyday settings that uses the framework of the book. It introduces mindfulness and provides teaching support for developing a personal mindfulness practice, and invaluable resources. It is being taught in community settings, higher education settings, and in workplaces all over the world.
Mindfulness: Finding Peace in a Frantic World has already reached hundreds of thousands of people and has enormous potential to transform the lives of many more.
Course description week by week;
Session 1–  'Waking up to the autopilot'.
Mindfulness starts when we recognise the tendency to be on automatic pilot, and the cost that this can have for our well-being and our relationships. Waking up to this can fuel a commitment to learning how best to step out of autopilot, in order to become more fully alive in each moment.
Session 2– 'Keeping the body in mind'.
The body is a great ally and refuge in not being carried away by such thoughts. As we have seen, the foundation of all mindfulness training is the cultivation of sensed body awareness. By learning to drop attention again and again into the sensations of the body, we can practise grounding and anchoring ourselves in the present moment of lived experience and not feeding difficult thoughts and feelings.
Session 3
 

– 'The mouse in the maze, mindfulness in daily life'.
Whereas meditation is a particular activity distinct from others, mindfulness can be practised throughout the day: it is a particular way of doing whatever we're doing. Deliberately practising being present in the midst of activity – staying connected with the sensations of the body, feeling the breathing, noticing states of mind and thoughts or impulses that may be strongly present – these are ways of bringing mindfulness and wakefulness into the midst of daily life.
Session 4 – 'Moving beyond the rumour mill, relating differently to thoughts and worries'.
In this session, we practice seeing thoughts as creations of the mind rather than facts. We learn how we can see more clearly, recognise habits of mind and how they powerfully influence mood and behaviour.
Session 5 – Turning towards difficulty, from reacting to responding'.
This session builds on the first four with the invitation to turn towards and befriend aspects of our experience that we may typically avoid and resist. When we practice in this way, we build resilience.
Session 6 –  'Practising kindness'. Being with others can be wonderful and challenging! 
In this session we bring our mindful awareness to habitual patterns of relating to others and open up to alternative ways to flourish.
Session 7 – ' When did you stop dancing?'.
The central question in this class is "How do I spend my time, and do the choices that I make about this really support my well-being and that of those around me?"
Session 8 – 'Your wild and precious life'.
Weaving your parachute: what are you going to practise?
'Mindfulness has been compared to weaving a parachute. But there's no point in doing this when we're falling headlong towards destruction. We have to weave our parachute every day, so that it's always there to hold us in an emergency. The first seven weeks of the Mindfulness programme helped you begin to taste this process, but Week Eight is as important as them all. Week Eight is the rest of your life. The task now is to weave the practices into a routine that is sustainable in the
long term.'
If you have any questions about the course , please feel free to contact me at 087 7732467 or fergusbarrett@yahoo.ie
There is the potential for funding for these courses.
Please contact me and I would be more than happy to chat about funding.
The course can be tailored to suit your company needs. 
 "I cannot recommend Fergus and Inward Bound Mindfulness highly enough. Our team benefitted greatly from the central message delivered – Don't loose sight of the moment. The benefits for all will last long beyond the talks and hopefully make us all realise and enjoy the important things in life. Even with the restrictions of remote talking the message made its way to all. Fergus delivered with a calm, positive and personal approach. These talks will uplift all who attend. Mark Kenneally – Prochem"
"Fergus gave a talk for our own employees and a valued client of ours, on the subject of Mindfulness. This was an informal talk with a restricted audience that was filmed for use with a wider audience at a later date, all carried out within the restrictions imposed by Covid. From the start Fergus exuded knowledge and calm, he insisted on sitting and chatting with the audience in order to allow a relaxed atmosphere in the auditorium, he encouraged feedback and discussion throughout but spoke knowledgeably for over an hour with the audience who very much engaged throughout. Using his past experiences, both military and civilian, he provided examples of the benefits of mindfulness to everyday life, both at home but importantly in the workplace. Fergus stayed around afterward and spoke one on one to many of the audience members and gave hugely of his time before during and after the talk but more importantly for months after, if anybody had a question, Fergus was available on the phone. We would recommend Fergus for any similar event and look forward to working with him again soon.'  Benny – Shanley Industrial Engineering"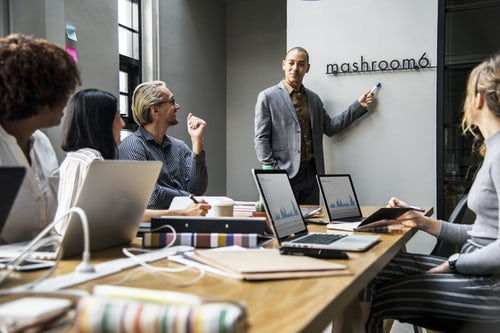 Ready to Make a Change?
If you would like to start an inward journey to rediscover your inner peace, happiness and contentment, contact us today to discuss how Inward Bound Mindfulness can design a programme for your business or organisation.