Corporate Mindfulness Programmes
Inward Bound Mindfulness provides professional mindfulness training in the workplace.
Mindfulness and wellbeing talks
1/2 hours, half day/ full day training
6 week in-person mindfulness courses
Video mindfulness course for employees
The different workshop options.
1. Mindfulness & meditation
2. Mindful Communication
3. Mindfulness for mental health
4. Mindful leadership
5. Social mindfulness
6. Compassionate leadership
7. Mindfulness & emotional agility
8. Mindfulness & positive psychology
If you have any questions about the course , please feel free to contact me at 087 7732467 or fergusbarrett@yahoo.ie
There is the potential for funding for these courses.
Please contact me and I would be more than happy to chat about funding.
The course can be tailored to suit your company needs. 
 WORKSHOPS EXPLAINED.
1. Mindfulness & Meditation – what is mindfulness, how to practice it, and the benefits from a mindfulness practice.
2. Mindful communication – how mindfulness can support skilful, effective, and compassionate communication in the workplace.
3. Mindfulness for mental health – learn the skills, coping methods, and practices which support employees mental health.
4. Mindful leadership – gain greater clarity, focus, awareness, compassion, communication skills, and creativity. 
5. Social mindfulness – a new approach (Mark Leonard who created, Mindfulness-based Organisational Education-MBOE). MBOE is a powerful tool in creating social cohesion in organisations and communities.
6. Compassionate leadership – (healthcare setting) developing compassion through awareness, connection, mindfulness practices,  communication, and understanding.
7. Mindfulness & emotional agility – how mindfulness can support self-awareness, emotional intelligence, the effective management of one's own and other's emotions, and increase emotional resilience.
8. Mindfulness & positive psychology – Learn how to, increase positive emotions, live with more clarity and gratitude,  improve employee wellbeing, create positive change, and cultivate inner resources which lead to a more balanced, authentic, joyful, and mindful life. 
 "I cannot recommend Fergus and Inward Bound Mindfulness highly enough. Our team benefitted greatly from the central message delivered – Don't loose sight of the moment. The benefits for all will last long beyond the talks and hopefully make us all realise and enjoy the important things in life. Even with the restrictions of remote talking the message made its way to all. Fergus delivered with a calm, positive and personal approach. These talks will uplift all who attend. Mark Kenneally – Prochem"
"Fergus gave a talk for our own employees and a valued client of ours, on the subject of Mindfulness. This was an informal talk with a restricted audience that was filmed for use with a wider audience at a later date, all carried out within the restrictions imposed by Covid. From the start Fergus exuded knowledge and calm, he insisted on sitting and chatting with the audience in order to allow a relaxed atmosphere in the auditorium, he encouraged feedback and discussion throughout but spoke knowledgeably for over an hour with the audience who very much engaged throughout. Using his past experiences, both military and civilian, he provided examples of the benefits of mindfulness to everyday life, both at home but importantly in the workplace. Fergus stayed around afterward and spoke one on one to many of the audience members and gave hugely of his time before during and after the talk but more importantly for months after, if anybody had a question, Fergus was available on the phone. We would recommend Fergus for any similar event and look forward to working with him again soon.'  Benny – Shanley Industrial Engineering"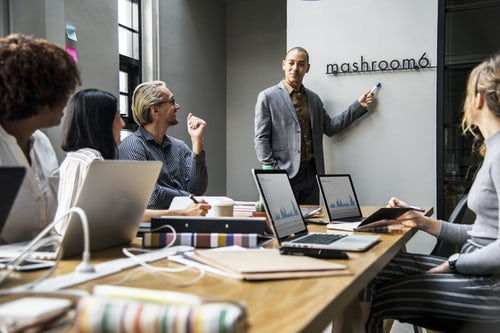 Ready to Make a Change?
If you would like to introduce mindfulness into your workplace,  please contact us today to discuss how Inward Bound Mindfulness can design a programme for your business or organisation.